How To Know SSS Number if Forgotten (8 Ways)
Many of us registered with SSS when we were fresh college graduates, and may not have been mindful of keeping our SSS numbers safe.How To Know SSS Number if Forgotten (8 Ways) This can lead to forgetting our SSS numbers and facing the consequences of losing them.
However, your SSS number is more important than you may realize. It is not only required to create your My.SSS online account, but also to avail of all the benefits that regular paying SSS members are entitled to.
Fortunately, if you have forgotten or lost your SSS number, you do not have to apply for a new one. Instead, there are various options available for verifying it, which are discussed in this article.
How To Know SSS Number if Lost or Forgotten
What Is an SSS Number?
The SSS number is a unique 10-digit identifier given to all individuals who are registered with the Social Security System (SSS) in the Philippines, which is a government-run social insurance program. Both compulsory and voluntary members are assigned an SSS number
SSS members will require a specific number to access their records, apply for loans, or receive benefits in cases of sickness, unemployment, disability, maternity, retirement, or death, whether it is done online or offline. This number is also essential when applying for a job, opening a bank account, or conducting transactions with other government agencies outside of SSS.
Why You Need To Get (and Keep) Your SSS Number
Your SSS number serves as proof that you're a registered member of the Social Security System, allowing you to pay contributions and access SSS benefits.
You'll need to obtain and maintain your SSS number for various purposes, including
a. To get employed. The Social Security Law requires employers to hire individuals with SSS numbers. Hence, you must obtain an SSS number before starting your first job and present it to every new employer when switching jobs.
b. To create a My.SSS account. With most SSS services now available online, it's crucial to create a My.SSS account. This will save you time and money, as you can complete SSS transactions from the comfort of your home. However, you won't be able to create an online account without an SSS number.
c. To pay for SSS contributions and loans. Your employer can't deduct the amount of contribution or loan amortization due each month without your SSS number. Failure to do so can result in penalties for both parties.d. To avail of different SSS benefits. As a valid SSS member with an SSS number, you can regularly remit your contributions. The amount you contribute will determine the benefits you're eligible for, such as sickness, maternity leave, unemployment, disability, retirement, or death benefits.
SSS Number Verification: How to Know SSS Number in 8 Ways
Method 1: How To Check SSS Number Through Your My.SSS Account
The My.SSS or SSS member portal is an online platform that allows members to conveniently monitor their contributions, apply for salary loans, submit benefit applications, and generate payment reference numbers for contributions and loans, all from the comfort of their own homes.
Upon logging into your account, you can easily access your SSS number. In case you haven't signed up or established your own My.SSS account yet, refer to the guidelines provided in this article.
On the other hand, if you already possess a My.SSS account, you can retrieve your SSS number by adhering to the following instructions: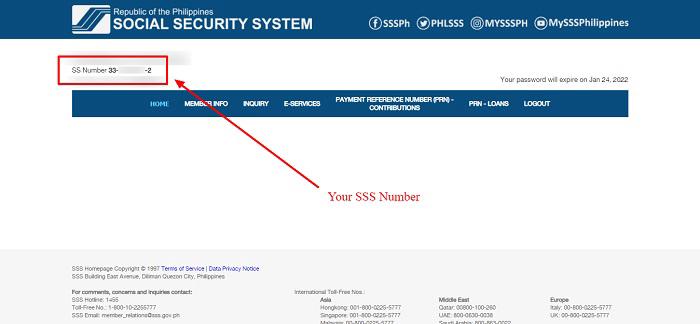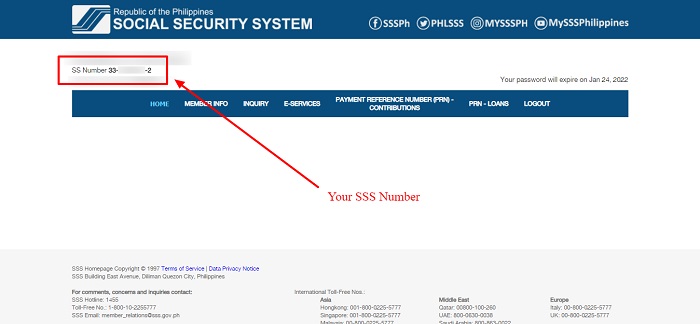 Go to the official SSS website.
Go to the official SSS website.
Answer/solve the CAPTCHA and click Submit.
On the right side of the page, select the MEMBER portal if you are an individually paying member or the EMPLOYER portal if you are a registered employer.
Log in with your user ID and password. If you have forgotten or lost your login credentials, you can recover them by following the guide provided on the website.
Once you have access to your account, you can see your SSS number displayed at the upper left corner of the page, just below your name and above your CRN number.
Alternatively, you can also access your My.SSS account using the SSS Mobile app. To check your SSS number through your mobile phone, follow the steps provided on the app.:

Install the SSS Mobile app on your mobile phone.
Log in with the same user ID and password you use to access your My.SSS account from your computer/laptop.
Thanks to the newly designed SSS Mobile app, you can immediately see your SSS number at the top of the screen upon logging in.


Method 2: How To Check SSS Number Through Your Old SSS ID

Unlike the old SSS ID, the UMID doesn't show your SSS number and instead displays the CRN on the front of the card.

Method 3: How To Check SSS Number Through Your SSS E-1 or E-4 Form

If you applied for an SSS number in 2015 or earlier and still keep a copy of your E-1 form, you could find your number handwritten in the upper right corner.